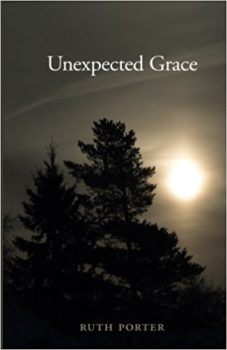 Ruth Porter's new novel, Unexpected Grace, has been released! It is available for purchase through Bar Nothing Books or Amazon. Read more …
---
Ruth Porter's novel A Simple Life is not simple.  It begins slowly and builds to a
heartbreaking climax, as the lives of its characters intersect and intertwine, and the presence of a stranger precipitates a tragedy.  A Simple Life is also an elegy for a vanishing way of life.  Through it all, Porter's deep love and feeling for the natural beauty of rural Vermont shines through.
S. Nadja Zajdman, author of Bent Branches, Montreal, Canada
---
Ruth Porter's masterful novel, Ordinary Magic, is flecked with magic.
It tells the tale of the life of a family in rural Vermont over the course of the winter of 1977.   In this story the zeitgeist encroaches in the form of oil embargos and the spiralling price of gas, the presence of a Viet Nam war widow, a maturing "hippie," a young husband whose immaturity nearly destroys his marriage, and the option of legal abortions.  Yet, in Ruth Porter's rugged corner of New England, time is truly marked by the seasons, and in Ordinary Magic the season, and the star of this lyrical work, is winter.  Porter celebrates winter in all its nuances, from the size and texture of snowflakes and the speed at which it flies and falls, to its silence, its dangers, its darkness; and the shades and quality of its returning light.  There is a passage detailing an unexpected sleigh ride on Christmas night that shimmers like a poem by Robert Frost.  There is a scene in which two estranged, middle-aged brothers reach reconciliation and a new understanding, counterpointed by work taking place in a sugarhouse, which is a wonderful metaphor for the thawing of the brothers' frozen feelings, as February heralds a new softness and warmth in the air and in the light.
The theme of a thaw, both in human relationships, as well as in the atmosphere, sees Ordinary Magic through to its conclusion, which comes at the onset of spring.   The season's promise of renewal is manifested, literally, with the birth of a child—a new life.
S. Nadja Zajdman, author of Bent Branches, Montreal, Canada