It's a steamy, overcast day, a week after Vermont's disastrous floods. You might think we were back to summer, until you looked around. Then you see that the green is not so green, that there's starting to be some yellow in the leaves and grass. The air seems different. The crows are gathering into groups. I haven't seen a robin for days. Hurricane Irene blew us, or maybe washed us, into a new season, out of summer and into the beginning of fall.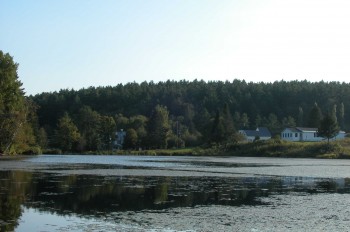 It's supposed to rain hard tonight and tomorrow. I hope the weather people are wrong. It must be awful for people whose places got damaged by Irene to think they might get hit again. We were very lucky. The only damage we got was that there was a foot-deep gulley in the middle of our road, but it was passable if you straddled it with the wheels of the car. My corn got beaten down by the rain, but I was able to stand most of it up again.
The news is full of examples of how the people of Vermont are managing to cope with what has been thrown at them and how generous they are about turning out to help the ones who need help. It reminds me of the essay William Faulkner wrote called A Guest's Impression Of New England. He says, "It is not the country which impressed this one. It is the people—the men and women themselves so individual, who hold individual integration and privacy as high and dear as they do liberty and freedom;" And later on in the essay he says about the New Englander, "Because he is free, private, not made so by the stern and rockbound land—the poor thin soil and the hard long winters—on which his lot was cast, but on the contrary: having elected of his own volition that stern land and weather because he knew he was tough enough to cope with them; having been bred by the long tradition which sent him from old worn-out Europe so he could be free; taught him to believe that there is no valid reason why life should be soft and docile and amenable, that to be individual and private is the thing and that the man who cannot cope with any environment anywhere had better not clutter the earth to begin with."
It's easy for me to say since I haven't been hurt by the flood, but it's still so. It was true in 1954 when Faulkner wrote it, and it's still true today. And bravo to the tough people of our state.