Last fall, a few days before Thanksgiving, our oldest Scotch Highland cow had a calf we weren't expecting.  There was very little snow,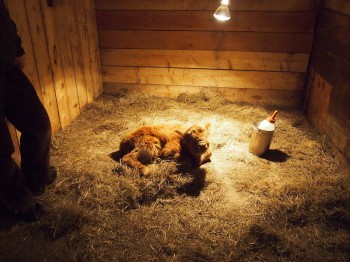 One day old
although it was cold, and the cows were trekking down the hill below the barn to the far end of their pasture.  Maybe they thought they might find some green grass.  Joyce, the mother cow, had the calf down there, and when the cows came up the hill again, she didn't know whether to stay with her baby or go with the herd.  She went up and down several times, and then Bill carried the baby to the barn.  He thought Joyce would follow, but she got confused.  She followed almost all the way and then ran back down to where the baby had been born.
Finally, after a lot of running around, we managed to get Joyce shut into the barn and alone with the baby.  Joyce is a good mother.  We thought the baby would be fine once everyone had a chance to settle down.  But the next morning, it was obvious that she had not been on her feet and so she had not had any milk.  She was getting weaker.
We called the vet to come and look at her.  He said the baby couldn't stand up because she had a selenium deficiency.  That is a common problem in Vermont,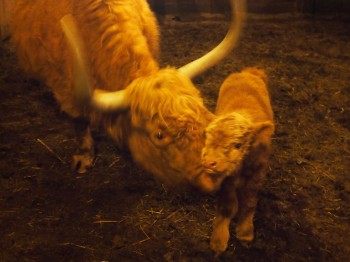 Joyce and her baby
although it is more often seen in sheep.  We have mixed minerals available to the cows all the time, but perhaps Joyce didn't get enough or was too old to absorb them properly.  The vet gave the baby a selenium shot, and we began to feed her from a bottle.  Joyce would have been glad to feed her, but she couldn't do anything for a baby who couldn't stand up.  In a day, because of the shot, the baby was able to stand up while she drank from the bottle.  Our granddaughter named her Precarious.  Her life certainly seemed precarious.  The vet said she had about a 10% chance of surviving.
We made her a warm room of hay bales with a heat light in the middle.  She got stronger, but it was sad to see how lonely she was.  She had us, but only when we came to feed her.  After a week, when she could walk, we showed her how to get to the other cows.  Bill built a little pen, so she could be near them, but protected.  We were afraid the cows might knock her over, although they are always gentle.
After about a week, we opened the gate so she could go in with the other cows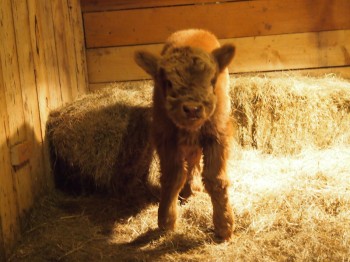 A week old
while we stayed nearby in case of accidents.  She was hesitant and afraid at first, but then she must have realized for the first time that there were other creatures like her in the world.  At first she walked around, but she got more and more excited, until she was galloping and bucking in pure joy, thrilled to find that she wasn't alone in the world.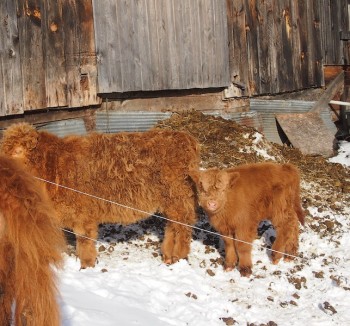 With the herd
After that, we let her out to spend time with the other cows every day, and soon we were able to fix a gate partway open so she could go in and out as she pleased.   Now she has a friend, a calf who is about five months older than she is.  That calf has learned how to use the opening in the gate to go to Precarious' room where there is always hay and a heat light.  So they spend a lot of time together, and the other calf has learned from Precarious to be very tame.  They both love to be brushed and patted.  We are also teaching Precarious to wear a halter and to walk and whoa and gee and haw.  It's always tricky to lead the cows to a new pasture, and we're hoping that we can use Precarious as a leader.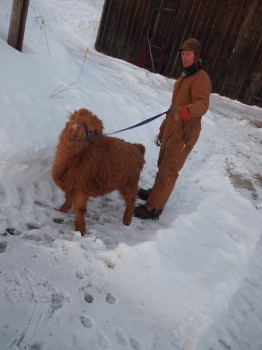 Trying out the halter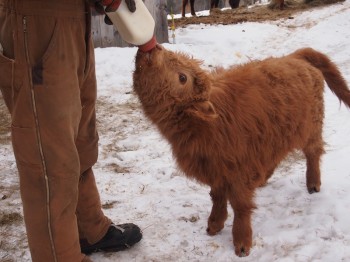 Drinking milk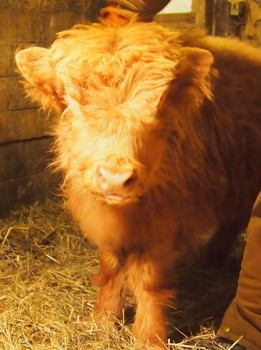 Precarious at four months